SIZE GUIDE
RIDING PANTS:
Most Spanish sizing is a little on the small size, please use these guides when choosing MOTS, S3 or Hebo (TRS and GasGas) pants.
XSmall = 26 - 28" (66 - 71cm)
Small = 28 - 30" (71 - 76cm)
Medium = 30 - 32" (76 - 81cm)
Large = 32 - 34" (81 - 86cm)
Xlarge = 34 - 36" (86 - 91cm)
XXLarge = 36 - 38" (91 - 96cm)
XXXLarge = 38 - 40" (96 - 101cm)
XXXXLarge = 40 - 42" (101 - 106cm)
RIDING JERSEYS:
When choosing MOTS, S3 or Hebo (TRS and GasGas) jerseys,

please replicate your pants size for a slightly looser fit,

or one size down for a more fitted Tee Shirt type fit.



GLOVES:
I always find a tight fit is better with Trial gloves. If it is slightly tight to get on, but the fit is firm this is good.
Less puckering of material on the palms and fingers, so no blisters and a better feel.
Measure the width of your hand in cm's.

8.5cm = XS - SML
9.0cm = SML - MED
9.5cm = MED - LRG
10 cm = LRG - XL
10.5cm = XL - XXL
HELMETS:
It's important to get the correct fit with any helmet, and especially one you will be wearing for many hours a day, and hopefully owning for a long time.
Measure the distance around the widest part of your head with a fabric tape measure, or piece of string.

This measurement is usually just above your eyebrows (1/4 of the way up you forehead approx), and above your ears.

Make note of this measurement in centimetres - this is your helmet size.
Use the table below to find your size as donated by the helmet manufacturers. €" for example, if the measurement around your head is 58cm, you should select a medium size helmet.

Your helmet lining will compress slightly with wear, so remember when you try it on that is the 'tightest" it will ever be. You are aiming for a fit that is snug, but comfortable. You don't want the helmet to "flop" around on your head (especially when new).
If you quickly snap you head forward and backwards the helmet should not move on your head. Nothing worse than seeing only the inside of the visor when you are just about to splat a 6ft wall!
Take time to get your head measurement correct, so you get the right helmet first time. If for any reason you don't like the fit we are always happy to swap it for a different size, brand, colour etc etc.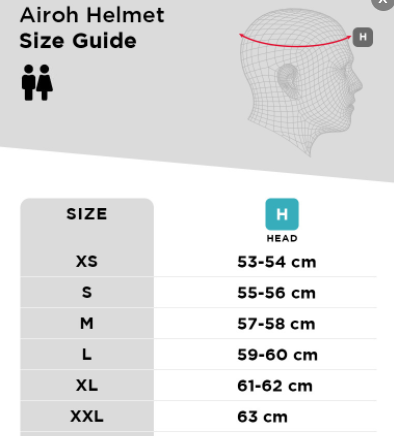 TRIALS BOOTS:
Forma, Hebo and MOTS boots are all in Euro sizing, this is based on a standard sole length measurement.
Alpinestars use an American sizing system. This is also one size bigger than the Australian/ UK system many of you would be used to. For example if you are a UK size 10, that is equivelant to a US size 11 etc etc.
Iif you have wide feet Forma have the most roomy toe box out of all the boots, they also offer the most shin protection as their boots are generally a little bit higher than other brands. (this can also be a hinderance if you have very large calves).
Also remember the day you try the boots on is the tightest they will ever be. Boots do stretch as they are broken in. So firm, but not painful is GOOD.
Sizing comparison:
Compared to EURO sizing this is the rough equivelant. (Alpinestar vs Forma/Hebo/MOTS)
US5 = 38 EU
US6 = 39 EU
US7 = 40.5 EU
US8 = 42 EU
US9 = 43 EU
US10 = 44.5 EU
US11 = 45.5 EU
US12 = 47 EU
US13 = 48 EU
Forma Trials Boots Sizing Table
Motorcycle boots should be a slightly firmer fit to regular shoes, as they are designed to give more protection and support.
The vast majority of our customers receive the correct size first time, but if you find that you need to exchange that's no problem, we can exchange sizes for you.
The most accurate sizing method is to measure your overall feet length (heal against a wall and measure out to the end of big toe) and compare against the boot's inside length measurement (listed below). The inside length should be at least 15-20mm longer than your feet. This measurement gives you the correct toe clearance for safety and comfort.
The majority of our customers receive the correct size first time, but if you find that you need to exchange, please DON'T PANIC, we will work quickly to exchange sizes for you.
Generic Sizing Chart: HOW TO FIND YOUR SHOE SIZE BY MEASURING YOUR FEET
To find the correct size you should measure your foot from the heel to the toe point. Add approximately 1,5 - 2cm to get the actual inner sole length. Measure both feet and fit shoes to the larger foot. Measure feet at the end of the day, when your feet are at their largest.
| | | | |
| --- | --- | --- | --- |
| ADULT SIZES | | | |
| EUR | UK | US | Insole length (cm) |
| 36 | 3,5 | 6 | 24,0 |
| 37 | 4 | 6,5 | 24,7 |
| 38 | 5 | 7 | 25,3 |
| 39 | 6 | 7,5 | 26,0 |
| 40 | 6,5 | 8 | 26,7 |
| 41 | 7,5 | 8,5 | 27,4 |
| 42 | 8 | 9 | 28,0 |
| 43 | 9 | 10 | 28,7 |
| 44 | 9,5 | 10,5 | 29,4 |
| 45 | 10,5 | 11,5 | 30,0 |
| 46 | 11,5 | 12 | 30,6 |
| 47 | 12 | 12,5 | 31,3 |
Youth Sizing
Size

Size 32 euro =

1 youth

= 225mm

inside length

Size

Size 33 euro =

1.5 youth

= 230mm

inside length

Size

Size 34 euro =

2 youth

= 235mm

inside length

Size

Size 35 euro =

2.5 youth

= 240mm

inside length

Size

Size 36 euro =

3 youth

= 245mm

inside length

Size

Size 37 euro =

4 youth

= 250mm

inside length

Size

Size 38 euro =

5 youth

= 255mm

inside length

Size

Size 39 euro =

6 youth

= 260mm

inside length

Size

Size 40 euro =

6.5 youth

= 265mm

inside length

Size

Size 41 euro =

7 youth

= 270mm

inside length
MOTS Specific Size Guides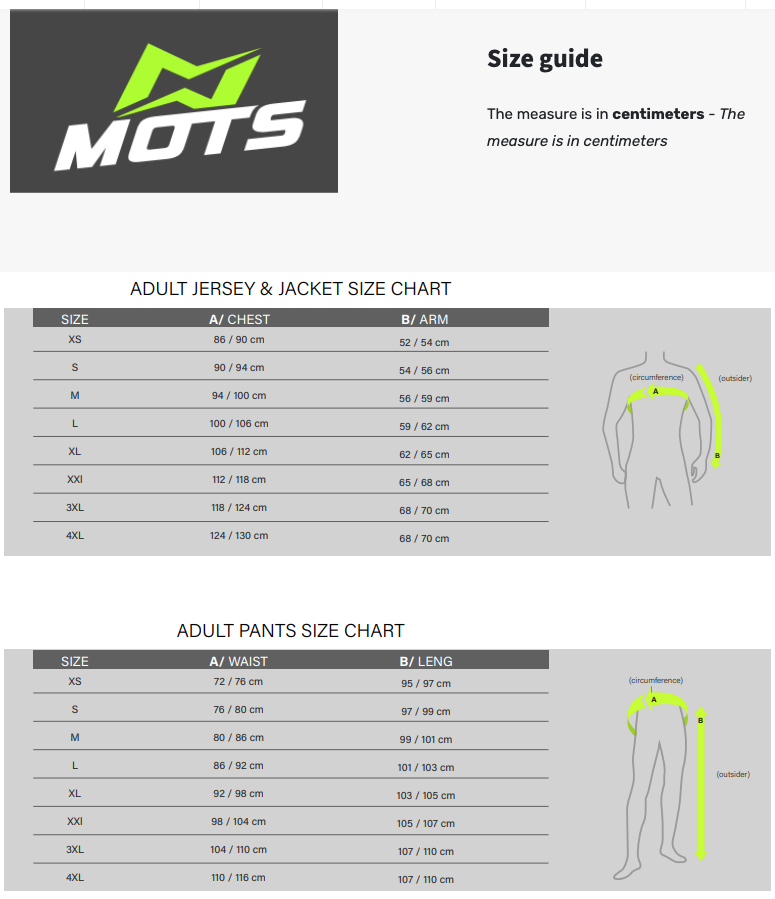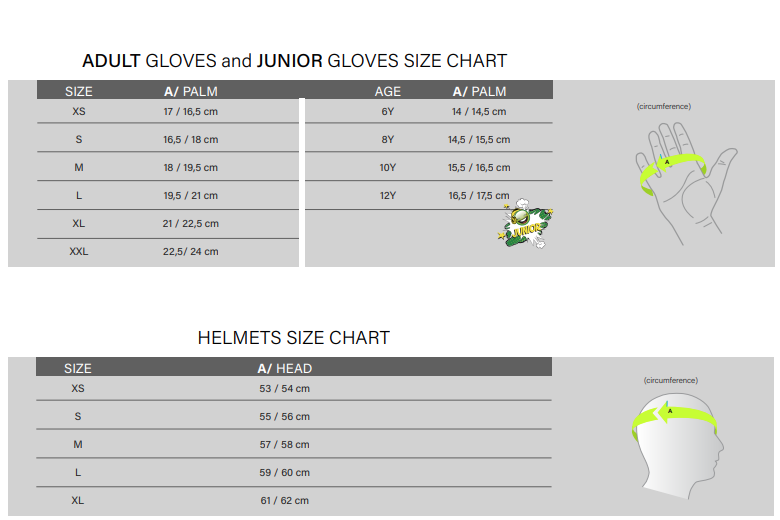 S3 Specific Size Guides: