Mecatecno DragonFly V.2
Mecatecno have had the Dragonfly electric trials bike under development for a few years now. They competed with an earlier example in the Trial World E Championship, and have used that as a solid foundation to develop the production version. The Hell Team will be importing the Dragonfly as soon as bikes are available. (production starts Nov 22).
---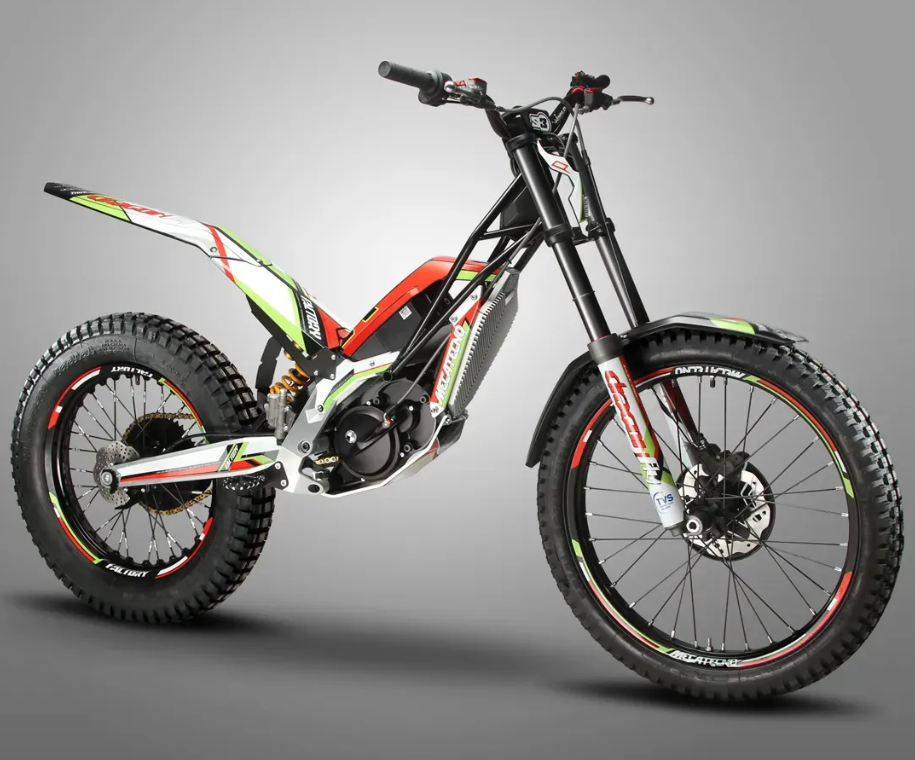 After an intense time of development and field tests, we can finally present the new Mecatecno Dragonfly Electric Trials bike.
Since 1978, the Spanish Mecatecno company has been focused on designing childrens and adult trial motorcycles. (see image below of the original DragonFly model)
Now with the resurgence of the brand, they have developed a full size electric trial motorcycle for the first time in its history .
Mecatecno has been working on its prototype for years and has even participated in the Trial World Championship in the Trial-E electric motorcycle category.
In 2018 Mecatecno surprised us with the Dragonfly 2.0 prototype. Now, the renowned Catalan brand shows the definitive and fully developed model.
It will be some serious competition for the French brand Electric Motion, which until now was the only one that marketed electric trial bikes for adults. The Dragonfly has the same power output as the EM, but is more than 12kgs lighter!
Technical Specifications:
60kg weight.
1,875Wh battery power.
3 power maps that allow the behavior of the engine to be adapted to the rider's taste: modern, classic and initiation trials.
Diaphragm clutch.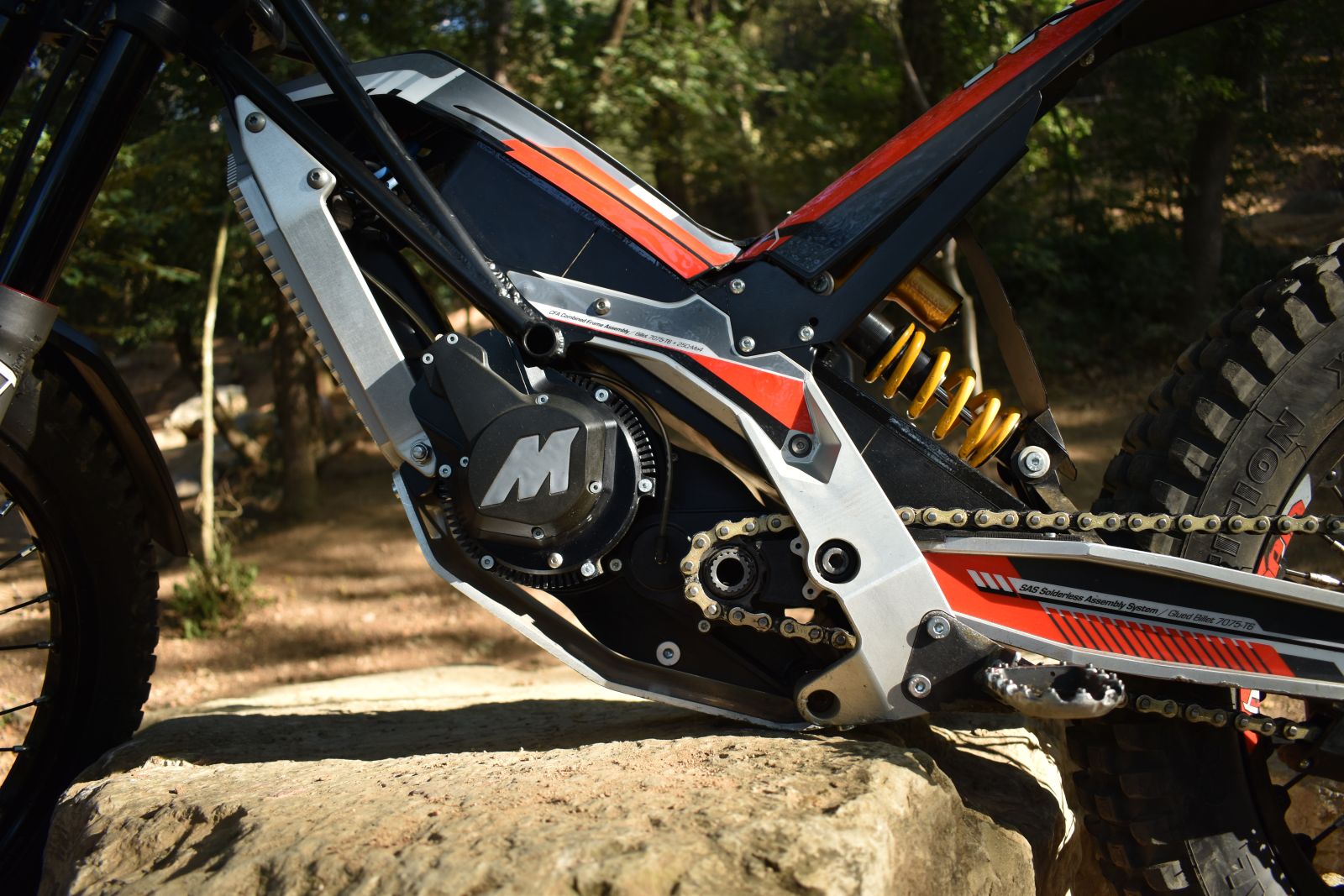 The first units will begin to be delivered in November 2022, and we can expect bikes in Australia first quarter of 2023.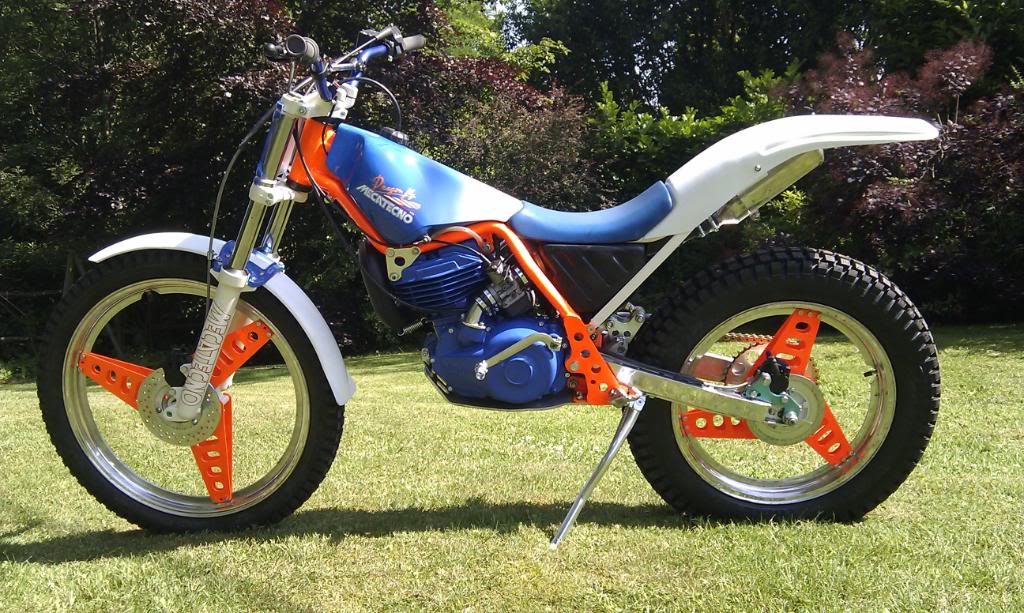 the Original Mecatecno Dragonflly from 1987
LINK to TrialWorlds recent test of the Prototype DragonFly.
IMA (Independent Motor Assembly) independent motor assembly.
IMA is a system that divides the powertrain into two distinct blocks: the electric motor and the gearbox/clutch. Specifications for this engine/clutch/gearbox concept are as follows:
– Motor: BLDC 15Kw, 48V, oil cooled.
– Clutch: multidisc in oil bath.
– Crankcases: block made of CNC 6082 T6 and 7075 T6 aluminium.
Independent Motor: This architecture allows for cleaner and more efficient motor maintenance, better electrical isolation, and quick "on-the-race" motor replacement in the event of failure.
Diaphragm Clutch: a diaphragm one because it provides better control, greater precision, and more adjustment possibilities.
This translates into more tactile control in classic driving style or quicker response in modern driving style, depending on the setting chosen.
CFA (Combined Frame Assembly) combined chassis.
CFA is a system designed to take full advantage of electric propulsion. This means, in other words, not having to limit yourself to the geometric demands of combustion engine motorcycles.
Generally speaking, a traditional motorcycle chassis has to be structural in itself. All the elements are hooked to it, and it is subject to great weight, tensions and constant vibrations. In contrast, the Dragonfly's chassis is not structural in and of itself. Like the human body, in which the bones would not stay in place if they were not supported by muscles, all the surrounding elements participate by adding strength structurally where they are required. This concept, together with the fact that the number of elements is much smaller, much lighter and free of vibrations, allows for a large number of benefits.
Some of these benefits are:
– Overall reduction in weight and dimensions of the tubular chassis.
– Better distribution of the sprung mass and better placement of the center of gravity which has a direct impact on stability, balance and the sensation of weight.
– Great control over frame stiffness with high impact resistance in the central area and controlled torsion near the headstock for a smoother ride.
– Reduction of the skid plate, which provides greater narrowness in that area.
– Simplification of the steps for assembly and disassembly, which favors the maintenance operations of the motorcycle.
The specifications are:
– Main frame: ø18mm CroMoly tube.
– Side tie bars: CNC machined 6086 T6 aluminum.
– Skid plate: 7075 T6 aluminium, 6mm thick.
– Engine structural plate: CNC machined 7075 T6 aluminum.
– Skid plate clamps: 6082 T6 aluminum.
CMBP (Centered Mass Battery Positioning) centered positioning of the battery mass.
At first glance, the main perceived feature is a highly accessible, easy-to-replace yet protected battery, but much more is at stake.
In an electric motorcycle, the battery is the heaviest suspended element. Therefore, it plays a determining role in the behavior and performance of the motorcycle. In other words, the same weight put here or there can make the bike feel lighter or heavier, can help you ride easily and precisely, or make it feel like riding a wild horse.
Mecatetech's objective has been to achieve the greatest precision and ease of piloting, so that it is as undemanding as possible. To achieve this, it has been decided to distribute the mass along the frame and the swingarm, bringing the center of gravity as close as possible to the line of the wheel axles.
The result has been an unprecedented mix that achieves improved stability and balance, an increased feeling of lightness and also an improvement in rear wheel traction.
LLPD (Linkless Progressive Damping) progressive damping without links.
A progressive suspension is essential in trial practice. Helps improve performance on all terrains, and greater traction in both low and high speed. But not everything is positive, because a progressive suspension with a linkage system adds weight, complexity and, in general, a great need for maintenance. Always keep an eye on bearings and mountings, which are too sensitive to adverse conditions. Also, it only works well when everything is correct, a deformed link, a worn bearing, can easily make the system go lousy.
Is it possible to get a progressive system without linkages? It is not easy, it is not cheap, but at Mecatec they have opted for it.
First of all, it requires an excellent, sensitive but robust monoshock. At Mecatecno they have decided that ÖHLINS is the best solution.
Second, we need a ventilated environment to make sure it is stable at any temperature. On motorcycles with a combustion engine, the shock absorber is surrounded by the exhaust pipe, therefore overheated by external agents, but on an electric motorcycle this problem does not exist.
Finally, the correct geometry must be found. After numerous tests, they have developed a geometry that mimics the behavior of a link system, but saves on parts, weight and maintenance.
This category is empty! Please try another category or use our search function to find what you are looking for. If you require further assistance please contact us.