2012 NSW Bike Trials Championship - What a great day!
Author: Paul Arnott Date Posted:25 October 2012
NSW BikeTrial Championships 2012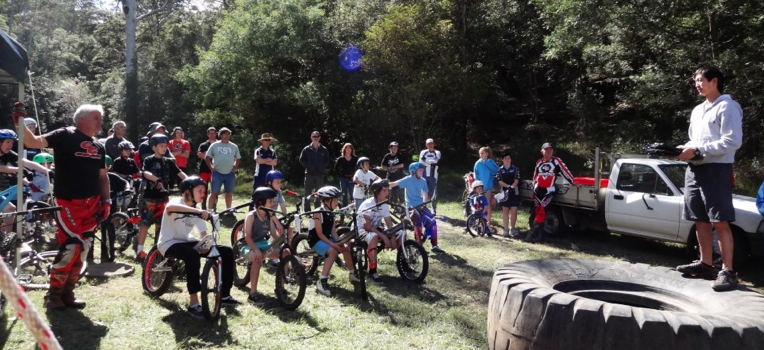 Riders briefing
Well Sunday 14th saw the running of the NSW bike Trials Championship at Pacific Park, South Maroota, NSW.
it was a beautiful sunny day, and it saw a record entry of riders for an Australian Cycle trials event this year, and probably the largest single NSW trials event in recent history. The field of riders was boosted by a heap of new young riders all keen to test their skills in the man made stadium style, and natural rock sections found at Pacific Park.
Sydney riders Mitch Ho, Sam Hull and Matt Platts,with help from Jess Behan organized a superb set of 5 sections, with grades for Under 12, Novice, Sportsman, Pro and Elite.
The organizers also did a brilliant job attracting sponsorship and a bountiful prize pool for all the riders.
Sponsorship was provided for the event by Expressive Bikes, The Hell Team, Bike Trials Direct and the Bike Shed.
Tim Mullany from Expressive Bikes made the long trip down from Queensland with Zac Hale on the Sunday morning and Andrew Windeyer (Hell Team) picked them up from the Airport and headed out to the Park.
We had set up the base area with a few Ezy-Up tents and dug in for a great day of Trials action. A lot of the new riders seen on the day really proved their stuff by taking out top honours in some of the classes.
An outstanding ride from brother and sister Mack and Rory Hartshorn saw first and second in Under 12 class, and young Finn Favelle (only knee high to a grasshopper) stole the hearts of the crowd and absolutely nailed third place.
Novice class also saw lots of the Moto trials crowd cross over and smash the sections with young Bailey Boniface giving an excellent performance to take the top spot. Mitch, Sam and Matt had set great sections across all grades with no one cleaning everything, or anyone getting maximum penalties.
Sports class had some serious competition with 12 riders and Park Rats Thomas Ring, just sneaking the win from JJ Chellas on count back.
Well done Gas Gas riders! (9 of the 15 podium finisher ride a Gasser Moto Trials bike - not bad eh)!
Outstanding performance was young Jack Favelle in 9th , man this kid is HOT, what a rider. Getting towards the pointy end Joel Davis just took out Elite, one point ahead of Queenslander Zac Hale, and only 4 points ahead of new comer Aiden Hayes coming up hard into a great third spot.
The grippy sandstone rocks obviously suiting his style. But really all things stopped for the massive talents of the top boys, finishing third in Pro class aboard an Inspired Hex was Alan Phillipson, pretty great effort considering recent wrist injuries, and top two wheeled trials rider in second spot the magical Sam Hull. So considered, smooth and powerful - a joy to watch.
But really blowing everyones minds Joel Gleeson took home top honours on a UNICYCLE! Everyone was stunned to see his talent on one wheel - mighty impressive.
All in all a great day, and a real turning point for the sport in NSW. Looking forward to the next instalment. Bring it on.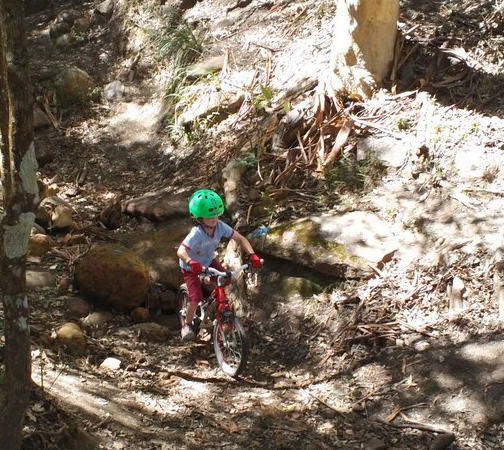 RESULTS: Fin Favelle - serious young talent.[/caption]
UNDER 12:
1st Mack Hartshorn, 11 dabs
2nd Rory Hartshorn, 28 dabs
3rd Finn Favelle, 32 dabs
4th Jackson Murray, 38 dabs
5th Ben Crossland, 39 dabs
6th Nathaniel Gillings, 72 dabs
NOVICE:
1st Bailey Boniface, 9 dabs
2nd Alexander Ryan, 14 dabs
3rd Chris Chellas, 14 dabs
4th Scott Eggins, 15 dabs
5th Lincoln Beer, 16 dabs
6th Brooke Franter, 17 dabs
7th Bev Andersen, 24 dabs
SPORT
1st Thomas Ring, 8 dabs
2nd Jono Chellas, 8 dabs
3rd Jarrad Boniface, 17 dabs
4th Cam Hoddle, 26 dabs
5th Sam Henman, 29 dabs
6th Cade Cooper, 29 dabs
7th Peter Thompson, 42 dabs
8th Ben Franco, 45 dabs
9th Jack Favelle, 49 dabs
10th James Boyle, 50 dabs
11th Adam McKnight, 56 dabs
12th Alex Favelle, 63 dabs
ELITE
1st Joel Davis, 6 dabs
2nd Zac Hale, 7 dabs
3rd Aidan Hayes, 10 dabs
4th Chris Martin, 21 dabs
5th Matt Platts, 39 dabs
6th Tim Mullaly, 46 dabs
PRO
1st Joel Gleeson, 21 dabs (unicycle)
2nd Sam Hull, 28 dabs
3rd Allan Phillipson, 33 dabs
4th Mitch Ho, 44 dabs
5th Damien Gillings, 50 dabs
6th Mitch Crittle, 58 dabs