Two early birds unite.
Author: Paul Arnott Date Posted:29 September 2016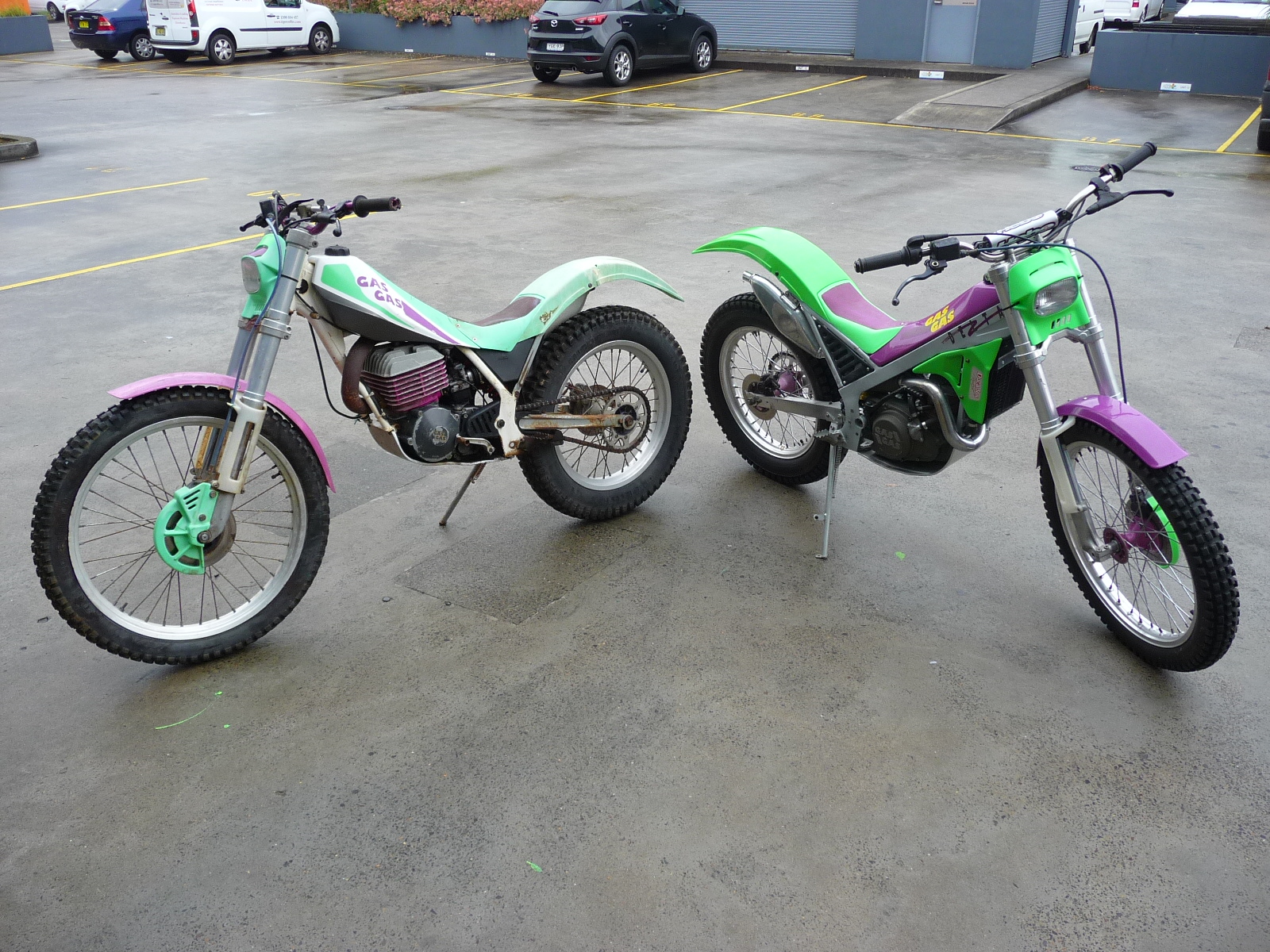 For starters just a little Gas Gas Australia Trials History. Gas Gas Spain started producing Trials bikes in the mid 80's. A company formed after the demise of Bultaco, but the brand didn't have a presence in Australia until keen trials rider Andy Derwent from Victoria, took action in the early 90's to bring the brand down under.
Andy was subscribing to the UK magazine Trial&MX, and was a keen watcher of Gas Gas's development. In early 1990 he decided that it was about time Australian riders has something else to choose from other than Fantic, Aprilia, Beta, or the JCM. Of course the Yamahas were never really competitive, and Honda were not making trials bikes at that stage.
[caption id="attachment_3270" align="alignnone" width="900"]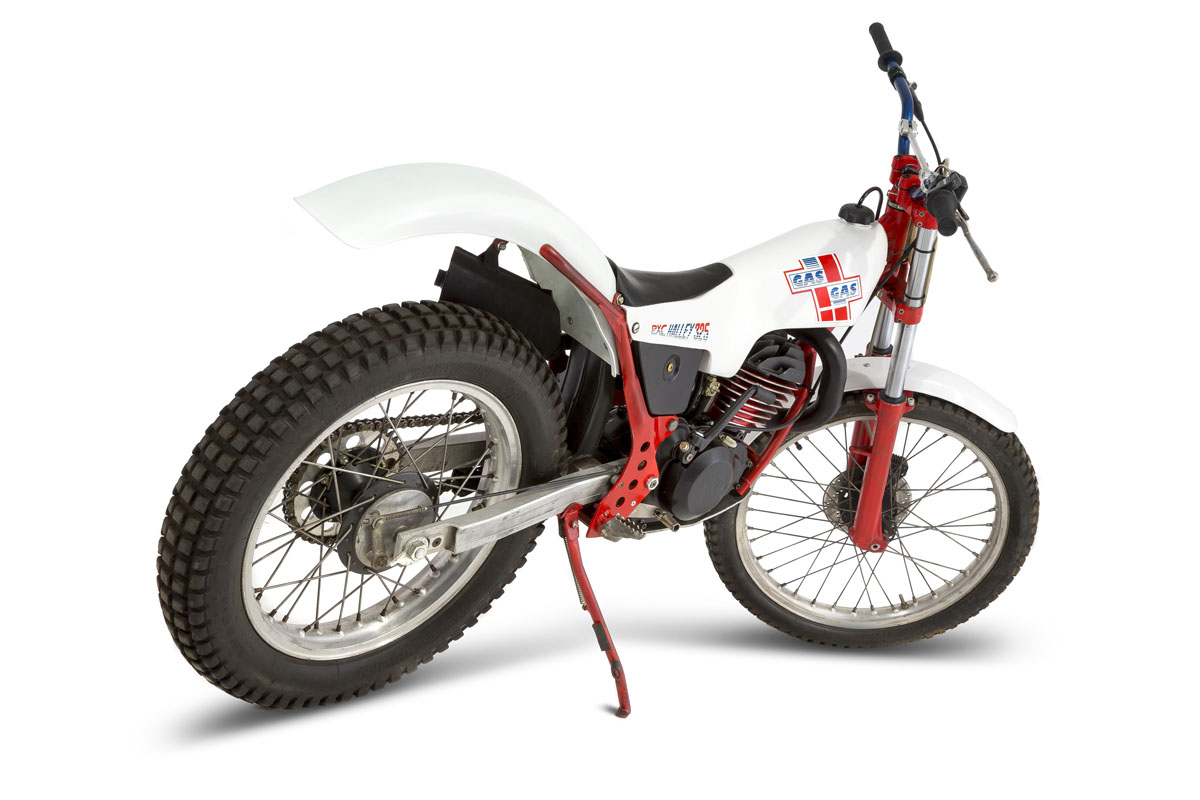 The very first Gas Gas trial model was the 325 Halley PXC[/caption]
After months and months of trying to communicate with the factory, Andy sent a fax (no emails then) translated into Catalan, and finally got a response from Andreu Codina. Soon after he got the first Gas Gas Delta Trials bike on a boat and heading to Victoria.
In 1991 the Aussie titles were held in Canungra. During that weekend Andy announced that Gas Gas was on the way to Australia and he would be the Sole Australian importer.
That first bike, the 1991 water cooled Gas Gas Delta, was ridden by Richard Kent to 2nd place in the Australian Trials Championship in 1992 held at Inverell, NSW. There was also Derek Beak, Jason Cunliffe, Stephen Driessens, and Andy Derwent in Open Solo. Dominique Brissoni in Greybeards, and Scott Collins in the Support Class all listed as being on Gas Gas.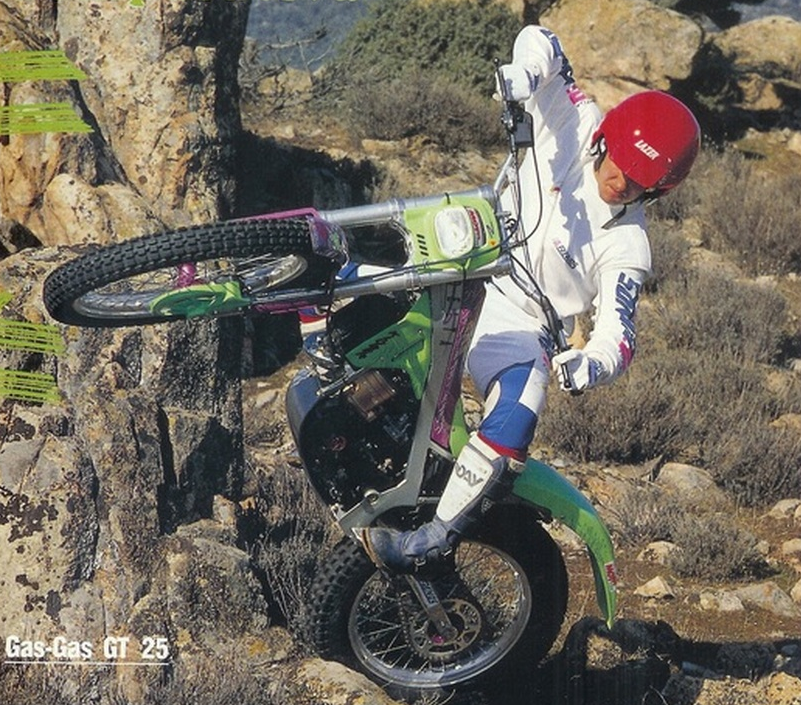 Anyway a few years later the bike was mothballed and with the arrival of the first shipment of new bikes, it was relegated to the shed where it lay for many years. Andy always planned to rebuild it, and obtained quite a few new parts for it, but with good intentions, and no spare time, it never happened.
In 1999 Andy sold the Gas Gas business to Mal and Jill Loone, and in that transaction came the Delta in several boxes along with the spares Andy had collected. Many parts were missing by that stage (robbed to fix other bikes no doubt), but over a period of years Mal collected enough parts to finally put it back it back together.
On re-assembly it had a complete new gear train, new clutch and basket, all the usual bearings & seals, a new fuel tank, new rear shock absorber, Motoplat ignition source coil rewound and mostly new plastics. It now looks and rides really really well, and takes pride of place in our little Gas Gas collection.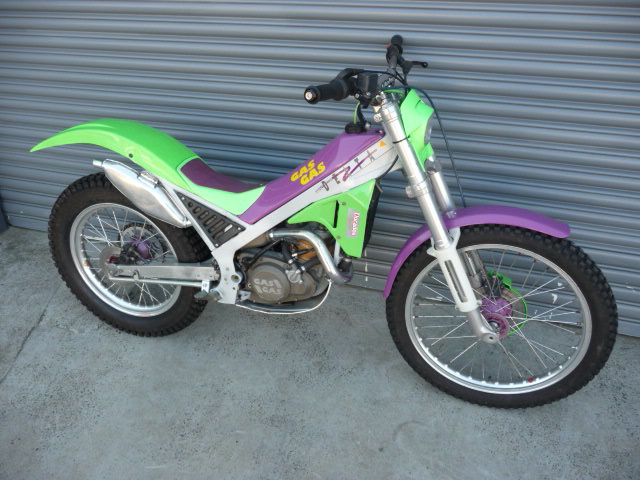 So back to the present...... A few weeks ago I got a call from a Mr Bill Murray in Queensland. "Hey Paul I have got a really early Gas Gas Trials bike I would like to fix up - i think it could be a late 80's model". Of course my interest was stirred. Bill said the bike hadn't been used for over 20 years as it had seized from being accidently run with no oil in the fuel, and had lain dormant ever since.
I, of course, was really interested as this predated the first bike, the above mentioned Delta, that Andy Derwent imported. So I was keen to get to the bottom of it.
I asked if he could get me a chassis number or a photo so we could date it and see if we could source the parts required. A day later I duly received an email with photos and it turns out to be one of the bikes from Andy's first proper shipment of Gas Gas's - a 1992 Gas Gas Aire. The air cooled sister of the Delta he originally imported, and the bike alway owned by all the Gas Gas Australia Trials imports - Andy Derwent, Mal Loone and myself.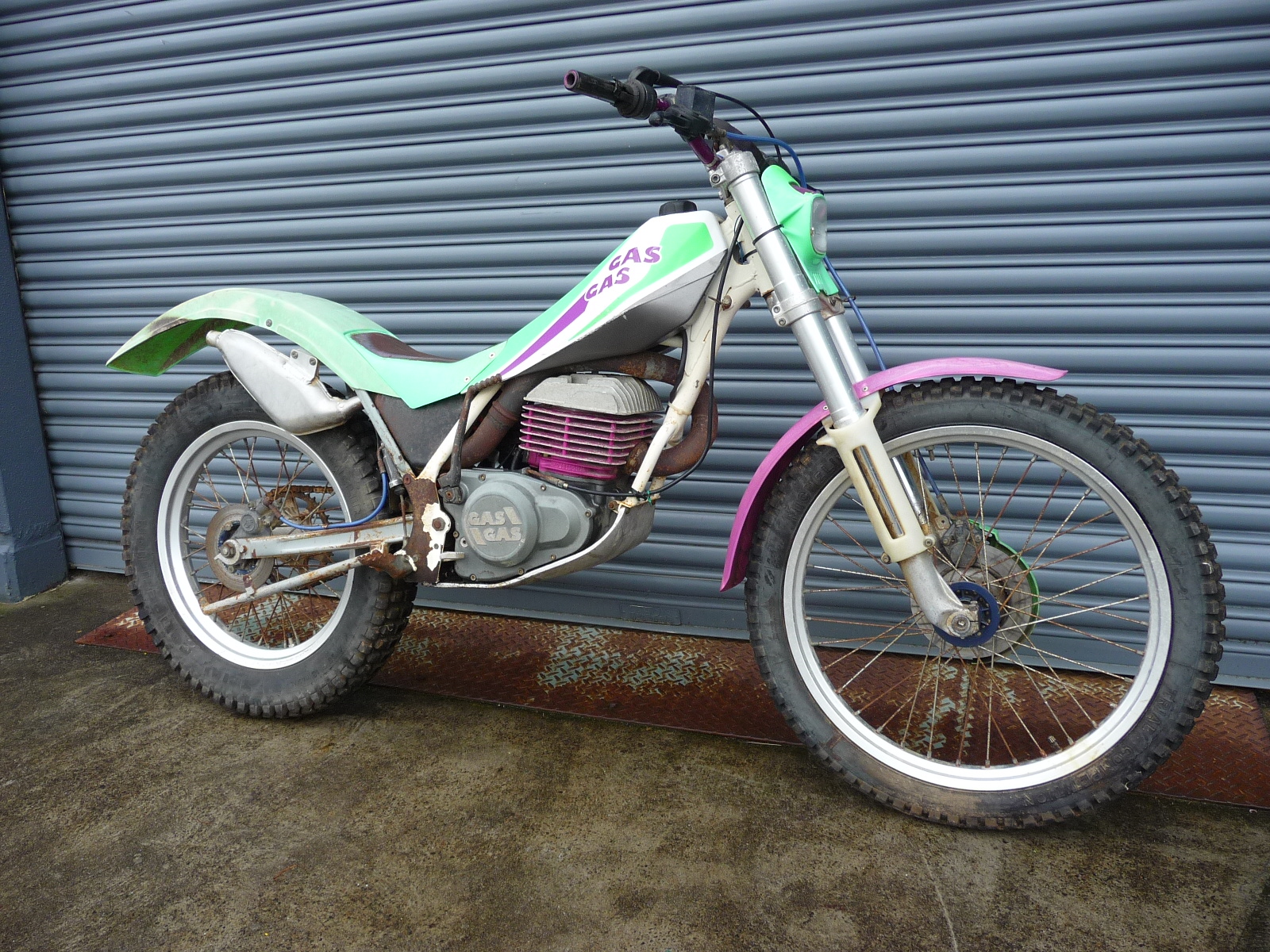 So after telling Bill the story as I knew it about the Delta, he said the best place for the Aire was probably with me and not in his shed, which I had to agree with 100%. We came to an arrangement and Bill kindly offered to bring it to Sydney as he and his partner Edith were heading down to see family, that turned out to be about 2kms away. It was definitely meant to be!
Bill recalls going to Andy's place to look at a Bultaco, and when he saw the Gas Gas Aire just fell in love with it, and walked out the owner of the green and purple machine.
Bill rode it in trials for few years then later moved to QLD, eventually getting a RX600 for beach riding, until fishing took over. It's likely it had the first oil change, never needed a spanner or tools, or had a flat tyre, until some years later his son rode it a little around the paddock....then....Bill's got a funny feeling the son used straight fuel instead of 2-stroke mix! So it sat idle until recently, when Bill mentioned the Gas Gas should not be sitting around, and should be restored or go to a good home where it might be resurrected. And they looked me up!
So now the first Australian Gas Gas, and one of the first Gas Gas Aire's are living together at The Hell Team. Thanks to the legacy of Andy and Mal, and our great parts supply I have been surprised this week how many parts I still do have in stock for that old girl, and a freshen up is definitely on the cards.
It is obviously has a weathered shell, but it is amazingly good underneath. Still the original tyres, and it rolls around like a new bike! Wheel bearings with grease no doubt. A measured prod on the kickstart lever and it did turn over, so I'm hopeful we will get it going soon.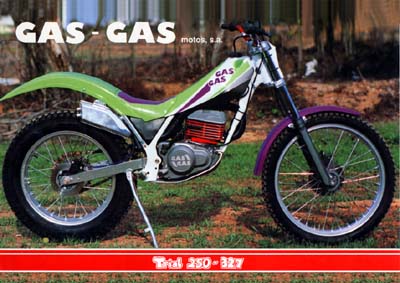 Thanks to everyone who helped out with information about these bikes and the Gas Gas Australia history.
Mr Andy Derwent (Australian Gas Gas importer #1)
Mal and Jill Loone (Australian Gas Gas importer #2)
Richard Kent (first Gas Gas Australia sponsored rider)
Trevor Bennett (Australian Trials Historian)
and Eljay Dreissen for the motivation after seeing his painting (as an 11 year old) of the Delta. Go "The Showman"!